Clothbind hard cover
with three different colours
The bibliophile is made in black cloth
Edition of 40 
Lars Bohman Gallery
I sin senaste serie målningar är det just ytan som Markkula lyfter fram som det bortglömda, marken vi står på. Bitar av mark, med gräs, löv, barr etc., har skannats in och sedan i enorm förstoring skrivits ut i 3D, som reliefer. Därpå målas relieferna i två färger, en för det som är i skugga, en annan för det som är i ljuset.
In his latest series of paintings Markkula points to the surface as forgotten, the ground we're standing on. Pieces of ground, with grass, leaves, needles and so forth, have been scanned and printed in 3D in enormous enlargements as reliefs. They are then painted in two colors, one for that which is in the shadow and one for that which is in the light. That is, two shades of the same color, but with two different pigments.
Photo Book Exhibiton
 
The ICP Library window exhibit – Feb 2016 – is an exhibit of books designed by Patric Leo. Patric Leo is a graphic designer from Stockholm who created the design studio Leo Form which has focused on art and photography books since 1992. For each of his projects Patric Leo works in close collaboration with the artist and is deeply involved in the production from the idea to the printed book. On a rotating display in our window we have books by – David Molander, Bengt Wanselius, Sune Jonsson, Jens Olof Lasthein, Kenneth Gustavsson, David Magnusson, Catharina Gotby, Silva Bingaz, Maria Friberg, JH Engström, Nina Korhonen, Sofia Änghede, Peggy Anderson, Catharina Gotby, Thomas Wågström, Martin Bogren, Anders Petersen. 
Clay Ketter
Recalcitrations
 



 
  Softbound. Printed on 70 gr paper
228 pages 17 x 24 cm
Edition of 300
Wordandobject.se
The book "Recalcitrations" is available with text excerpts and images from 1976 to 2016. The book is designed by Patric Leo and selfpublished through the own publishing company Word & Object. 
Clay Ketter's work is an inquisition into the legitimacy of the common denominator. A two-by-four is certainly a basic element, but the artist negates this given by making the element. These elements are made, using the same techniques they would otherwise be slaves to by forfeiting their intended function while gaining status in another field. This is a process of recalcitration – adamantly defiant in the face of the sensible, given matrix of the everyday.
 Motspänstigheter blir titeln på Clay Ketters nya arbetsbok i lite klumpig svensk översättning. Den betecknar något, eller någon, som bångstyrigt kämpar för att få sin vilja igenom. För Ketter är det samlingsnamnet för ett antal korta och personligt hållna texter, skrivna mellan 2002 och 2016, och ett insprängt bildmaterial av egna verk, skisser och inspirationsbilder mellan 1976 och 2016.
Textstyckena beskriver Ketters konstsyn och innehåller i vidare mening en sorts etik gentemot skapandet och konsten. På det sättet är texterna allmänna samtidigt som de tydligt uttrycker hans starkt personligt präglade övertygelse. Ketters anteckningar placerar in honom själv i en större social helhet, liksom hans konst i relation till traditionen. Vi får både Ketters teori och hans praktik. Det är så långt bort från ironi det är möjligt att komma. Och ganska rörande, helt enkelt.
Genom bilderna, som inte är illustrationer till texterna utan en likvärdig del av boken, får vi en inblick i Ketters privata universum. Bilderna ligger inbäddade på sidorna, utan numrering och utan bildtexter. De dyker upp, liksom utan förvarning, som en sorts egensinniga kompletteringar av texterna. Det här är en vacker och generös bok. En skrift att återkomma till.
Magnus Bons. Konsten.net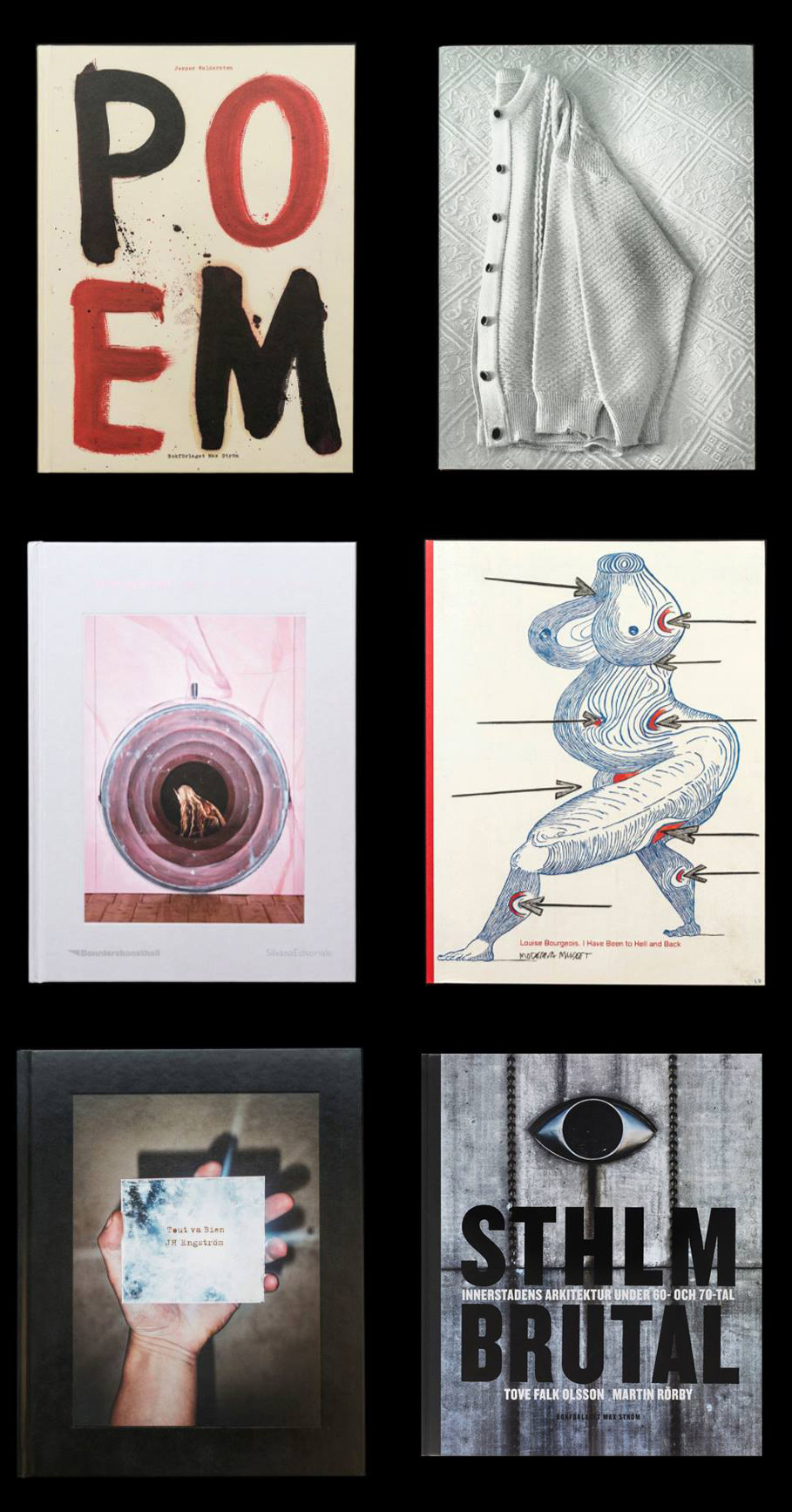 Swedish Book Art began as an exhibition at the National Museum of Art in 1934.
The main purpose was to highlight book production of high quality and to showcase this with some examples of good Swedish trade books. The exhibition and its organisation remained with the National Museum of Art for two decades before moving to the Royal Library, subsequently the National Library of Sweden. Since 1954 it is part of the National Library's organisation.
Each year about 250 books are submitted for consideration by a jury consisting of representatives from the book industry. The jury's main purpose is to select 25 books taking into account specific guidelines, such as typography, printing, paper quality, binding and illustrations. Each book selected serves as an example of good book production.
The selection is documented in an annual printed catalogue, paid for by funds made available by each participating organisation. In the catalogue, each selected book is presented with technical information and a short version of the jury's motivation. The books are also presented at exhibitions and other events in Sweden and the rest of Scandinavia and in Germany (Frankfurt and Leipzig) and France (Paris).
Monica Macdonald
In Absence
Kehrer, 2016